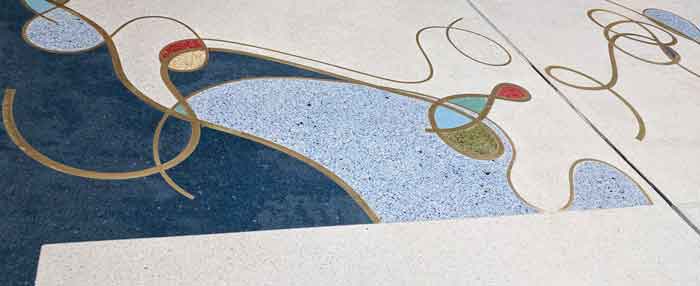 Terrazzo can be traced back to the Ancient Egyptians mosaics but the form used today comes from Italy and was merged from two previously used methods 'pavimento alla Veneziana' and 'seminato' in the early 18th century. However, it wasn't used on a large scale until the invention of divider strips and the electric grinding machine in the 1920s made it a more affordable and durable material.
Terrazzo is essentially marble, glass, quartz or granite chips set into a cement or epoxy resin base. Usually ground and polished to produce a smooth surface. It is seen in supermarkets, hospitals, airports, shopping centres and multitudes of other environments and can come in an array of different designs and colours. As it is cement based it is generally a thick, heavy hard-wearing material ideal for floors with heavy footfall.
In the 1970s a polymer-based terrazzo was created that enabled a thinner, lighter material that was easier to install and less likely to crack. This enabled designers to go even further with colour and design. This thinner terrazzo is not ideal for outdoors or busy areas.
W.B. Simpson and Sons at present generally only install precast terrazzo but we have been known to make exceptions to this with the wonderful bespoke art piece designed by artist Jacqueline Poncelet.