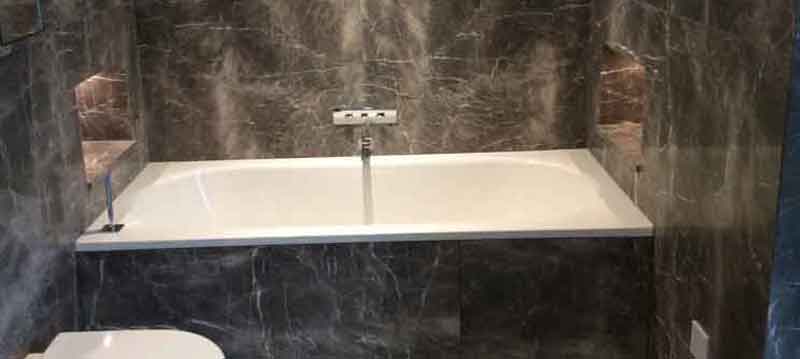 These materials have proved to be amongst the finest decorative materials since Roman and Greek times. Each provides the aesthetic qualities demanded by clients, architects and designers due to the variety of colour, vein and texture inherent in each product.
The product is available world wide, however quarries in Italy, France, Germany, Spain, and the UK are usually favoured for the home market. Visits to quarries are usually advised for high value and prestige projects to confirm the quality and consistency of the product.
Marble Stone Tiling Flexibility
The flexibility of each material is only limited by the imagination, and a wide range of applications are available for both internal and external use.
Each product can be used to form worktops, vanity units, stairs and steps, wall panels, architraves, cills, fire surrounds and even furniture. Modular tiles and fittings are also available for walls and floors, and should be considered for prestige applications. The low maintenance cost of each product further enhances the prestige, quality and durability inherent in the product.
A regular sweeping and washing of floors with clean water, and a wipe over with a wash leather for walls is generally satisfactory. Applied seals and specialist treatments applied at installation are often re-applied at regular intervals and special cleaning fluids and creams are also available for certain situations.
Marble Stone Finishes & Texture
All products are natural materials and subject to variations in colour, marking and texture which should be considered when specifying, however many surface finishes are available individually or combined to each such as:
Polished – high gloss finish
Eggshell – dull polish
Honed – matt surface
Sawn – diamond or frame
Sand blasted – matt surface, smooth or rough
Flame Textured – rough finish by heat
Hammer Dressed – surface tooled pattern