It all started with an artist by the name of Jacqueline Poncelet and her vision. W.B. Simpson and Sons were delighted to be chosen to bring that vision to life in the form of a bespoke piece of terrazzo using Jacqueline's design. Jacqueline is known for her ceramic sculptural works and her previous projects include Art on the Underground's 'Wrapper' at Edgware road tube station.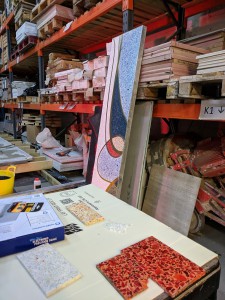 The first challenge was to find the glass/marble pieces in various colours to match the colours of the design. With multiple attempts at small sample boards and working with Jacqueline and terrazzo master Tim Giles we managed to find the perfect results.
A small version of the design was made to make sure we were on the right track and all involved were happy. Once approved it was time to get to work. This piece is pretty large so we had to get it right first time.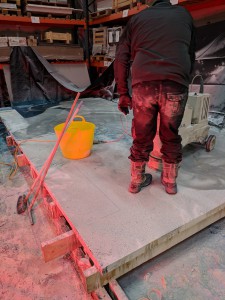 The looming deadline put pressure on the team creating this In progress masterpiece. Trying to speed up drying to move to the next step with space heaters. Obtaining materials quickly and trying to figure out logistics of how we were going to lift and transport this 400+kg piece of art to the site in Duke Street, London. This project proved to be one of our biggest challenges in recent history but we embraced it and are very pleased with the results.
It was a pleasure to work with Jacqueline and she feels the same as expressed in her own words:
"I couldn't have worked with a nicer more diligent team…I am very happy with the work…I can't thank (the team) enough for all the effort that went into delivering the work…and everyone including me is thrilled."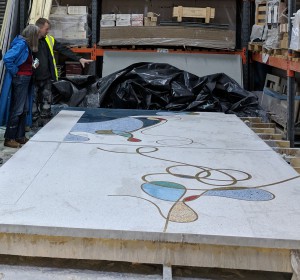 The piece can be found in the lobby of the new office building The Marq of Duke's Court in the heart of St. James's.
W.B. Simpson and Sons also installed the reception desk and terrazzo surrounding this area.